Hello Reader, or shall I rather say, Creative!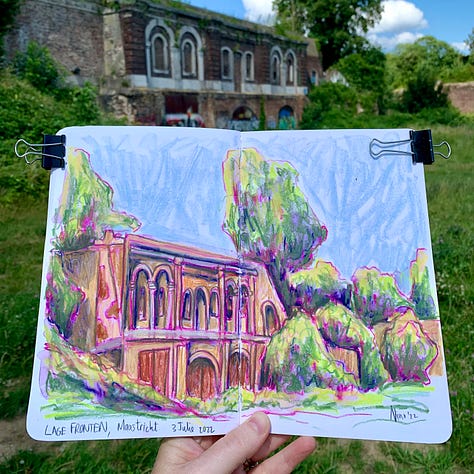 Sketch. Explore. Create! shares thoughts, ideas and a peek into my creative practice. I dream of inspiring and encouraging you to pick up your sketchbook and create. To explore different ways of making art, that you feel connected to. I want to take you along on a journey of making art in a combination of text, videos and still images. You can look forward to behind the scenes looks at what I have been up to, as well as my process and approach to creating. I will tell the stories behind paintings or drawings. There will be talks about art supplies, because, face it, it's just fun. You can also expect art and sketchbook challenges, sketchbook flip throughs, and lots of tips and tricks to try out. And most important - you will hopefully find inspiration and encouragement to sketch, explore and create.
Who am I?
I am an artist, urban sketcher and all round creative with a passion for on location drawing. One of the things that has had the biggest impact on not only my art but also my life, was the day I realised how much more of the world I can experience by drawing what I am seeing and experiencing around me.
What to expect
You can expect a new post to drop into your mailbox on the first and third Thursdsy of the month. In time to get you ready and inspired for a weekend of creating. Among those will be a monthly sketchbook challenge, that you will be part of the first Thursday of the month newsletter.
Why subscribe?
Because, I don't know about you, but I am pretty tired of being bombarded with advertisements, click bait and algorithms that only has one goal, and that is to keep you scrolling. By subscribing you are skipping all of the muck and getting straight to something that has the aim of getting you to step away from your screen and to pick up your sketchbook. You won't have to worry about missing anything. Every new edition of the newsletter goes directly to your inbox.
Substack also has a app that you can download to make reading this newsletter easier and faster. It includes the notes function that I sometimes use to repost my favourite highlights from other newsletters that I read, as well as the occasional sketch I made. You can download it here:

Subscribe to Sketch. Explore. Create!
People