Discover more from Sketch. Explore. Create!
Thoughts, ideas and a peek into my creative practice, with the aim to inspire and encourage you in your own creative journey.
One thing I wish my art teachers taught me
Colour mixing with only four pots of paint + a new sketchbook challenge
There are a few things that I always wish my art teachers in school had taught me. Things that I only manage to figure out years, and lots of frustration, later. One of those things are colour mixing.
The way is usually goes, or at least how it went for me and my classmates, is that you get handed a  set of watercolour paints. One of those sets that has a million colours. Then you get shown the basic colour wheel and how to mix the basic secondary colours. After which you think to yourself, I already have a green, purple and orange in my set, why would I waste time mixing them? And that is it. After that you are in the dark. On your own.
Then a few years later you find yourself in the art supply store with your parents, where you have to buy some acrylic paint for school, with no clue what to buy. There are so many different colours on the shelf!? So you just take the cheapest red, blue and yellow and of course a green and a brown. And then your mom remembers that she heard somewhere that you need some earthy colours, so you end up adding yellow ochre and burnt sienna to the mix, only to remember that you probably need a white and a black too. So you walk out of there with at least seven to ten colours, into the wild world of colour mixing frustrations.
Thanks for reading Sketch. Explore. Create!! Subscribe for free to receive new posts and support my work.
What I wish my art teachers taught me right from the beginning is that you actually only need three colours and white. That less is so much more, especially when you are starting out with painting.
Explore colour mixing with just three colours and white
If I coud go back in time, these are the four colours that I would have bought: magenta, cyan, yellow and white. And if you are buying watercolour you don't even need the white. These also happen to be the colours that I advised my daughter to buy when she stood in the art supply store with her birthday money. With just these three colours you can mix all the colours you need.
After you are comfortable using and mixing these three colours, you can start to try out different variations of it.
In this video I start by showing you how I mix a rainbow of colours with only those three colours. (Magenta, cyan and yellow.) Then I go on to use one of my favourite variations on those three colours, which is magenta, yellow ochre and Prussian blue, and show you all the colours that you can mix with that.
After filming I decided to use up all the left over paint on my palette to fill up the whole page.
You can do the same with any form of paint. On the next one I used watercolour paint. Again using only three colours to mix a whole rainbow of colours. And once you start to add the three colours all together in different quantities, is when you start to get the really beautifull desaturated colours. The three colours I used here are: Quinacridone Magenta, Nickel Azo Yellow and Ultramarine Blue.
Building limited colour palettes
Doing this exercise is also a great way to discover gorgeous limited colour palettes. You can either cut up the page or use a view finder to find colour spots that look good together. Here are some examples: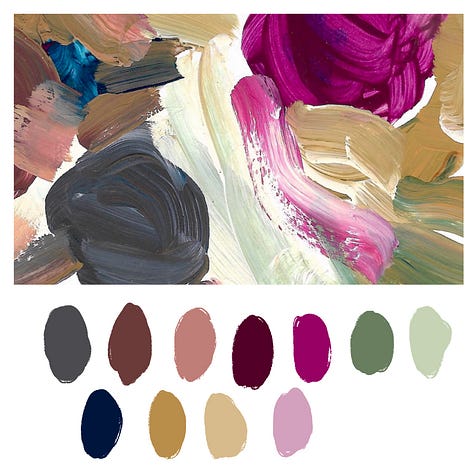 The great thing about "discovering" new limited colour palettes this way is that you know which colours you need to mix them again.
Sketchbook challenge
As you might have guessed the sketchbook challenge for this month is to go and play around with three colours of paint and see all the different colours that you can mix with them. Put it all on one page and then pick some limited colour palettes from the page.
There are a few things that I hope you get out of this challenge:
That it builds your colour mixing skills.

That you discover some good new limited colour palettes.

That you find relaxation and fun during the process.
Explore: COLOUR! workshop
There are still a few spots open for the Explore: COLOUR! workshop that will be held in Haarlem, the Netherlands on 2 September 2023. Go HERE for all the info.
May you have a wonderful, art filled August!
Untill next time,
Happy exploring!
Nino
Thanks for reading Sketch. Explore. Create!! Subscribe for free to receive new posts and support my work.